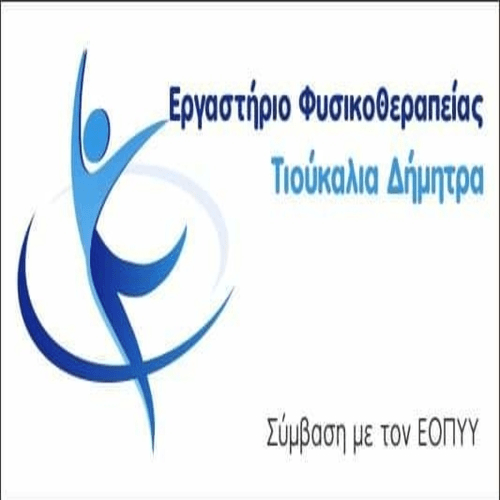 A decision that brings radical changes in the form of electricity bills announced by the Energy Regulatory Authority (RAE).
Με την απόφασή της «Κατευθυντήριες Οδηγίες για την υιοθέτηση πρότυπου εγγράφου Αίτησης Προσφοράς Προμήθειας Ηλεκτρικής Ενέργειας ΧΤ και υποδείγματος Λογαριασμού Κατανάλωσης ΧΤ» (No. 967/2021) και μετά την αξιολόγηση των σχολίων που υποβλήθηκαν από τους συμμετέχοντες στη δημόσια διαβούλευση, η ΡΑΕ ενέκρινε σήμερα την τελική μορφή των Πρότυπων Εντύπων Αίτησης Προσφοράς Προμήθειας Ηλεκτρικής Ενέργειας ΧΤ και υποδείγματος Λογαριασμού Κατανάλωσης ΧΤ.
Η κίνηση έρχεται σε μια περίοδο κρίσιμη για την αγορά ενέργειας, καθώς οι αυξήσεις στα τιμολόγια έχουν «στριμώξει» τα νοικοκυριά.
Σύμφωνα με τη ΡΑΠΕ, σκοπός της τυποποίησης των Πρότυπων Εντύπων σε ό,τι αφορά τους λογαριασμούς ρεύματος «είναι η ενημέρωση των καταναλωτών με πληρότητα, transparency, σαφήνεια και αξιοπιστία, τόσο πριν τη σύναψη σύμβασης για την παροχή ηλεκτρικής ενέργειας, όσο και κατά τη διάρκεια της σύμβασης, such as, also, η κατανόηση του τρόπου διαμόρφωσης του λογαριασμού ηλεκτρικής ενέργειας, η κατανόηση του κόστους που συνεπάγεται η εκάστοτε επιλογή προμηθευτή και τιμολογίου και η πρόσβαση των καταναλωτών σε ενημερωμένες επιλογές συμμετέχοντας ενεργητικότερα στην αγορά».
Η ΡΑΕ επισημαίνει ότι η ενδυνάμωση των καταναλωτών συνιστά κεντρικό της στόχο και πως γι' αυτόν το λόγο «μερίμνησε για την ορθή κι ομοιόμορφη εφαρμογή των κείμενων διατάξεων προκειμένου να διασφαλίζεται η αποτελεσματική άσκηση από τους καταναλωτές των δικαιωμάτων που τους εγγυάται το ενωσιακό και το εθνικό δίκαιο».
Πώς θα είναι οι νέοι λογαριασμοί ρεύματος
Η ΡΑΕ θα αποστείλει σύντομα λεπτομέρειες και αναλυτικές οδηγίες στους προμηθευτές (παρόχους) για τη συμπλήρωση των πεδίων επί των πινάκων που περιέχονται στα εγκεκριμένα έγγραφα, καθώς και συναφή βοηθητικά αρχεία.
Δείτε τα υποδείγματα της ΡΑΕ για τους νέους λογαριασμούς ρεύματος:
υπόδειγμα λογαριασμού ρεύματος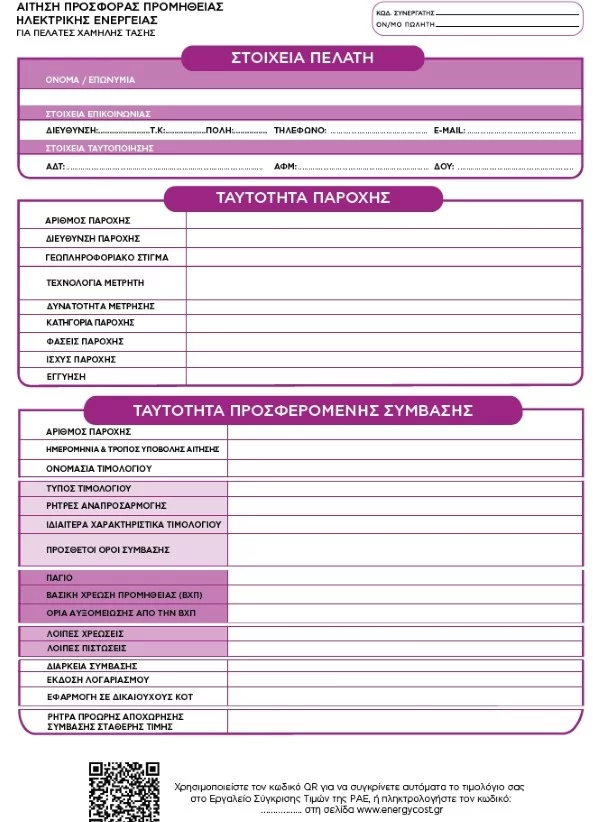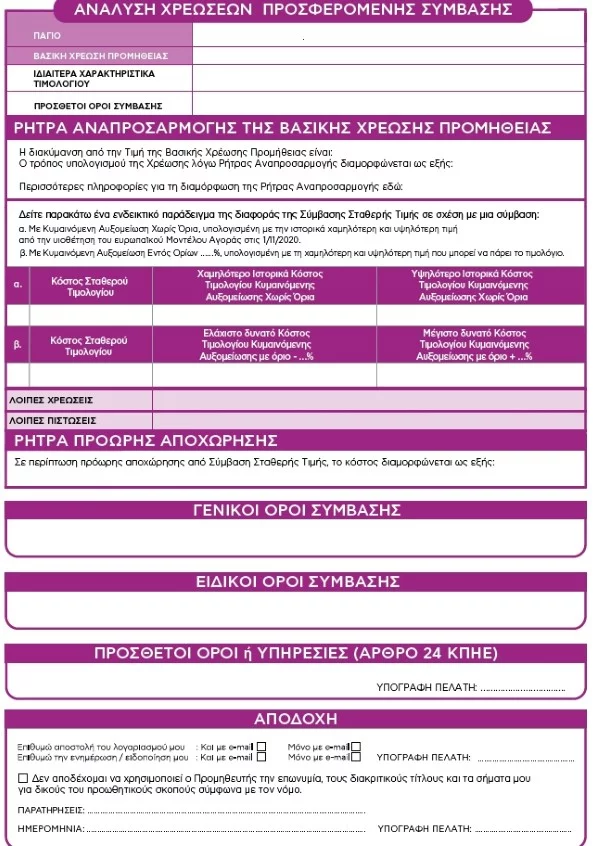 Source: iefimerida.gr