Fear the spiders; This is the time to take a deep breath and move on carefully. Τα προβλήματα στα αυτιά δεν είναι κάτι ασυνήθιστο. Μια απλή επίσκεψη σε έναν γιατρό θα μας έλυνε τις απορίες και ενδεχομένως τα προβλήματα.
Μία γυναίκα όταν ένιωθε πόνο στο αυτί ωστόσο δεν μπορούσε να σκεφτεί ότι θα έβρισκε μέσα έναν εισβολέα με 8 legs.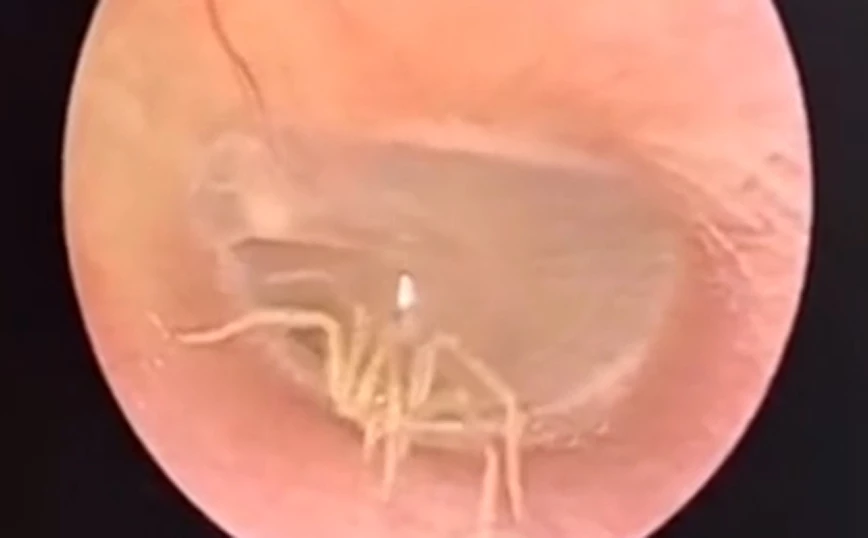 Ο γιατρός έμεινε έκπληκτος όταν ανακάλυψε ότι μια απόφραξη μέσα στο αυτί της γυναίκας ήταν στην πραγματικότητα μια αράχνη είχε στήσει κατασκήνωση.
Η εισβολέας ήρθε τρέχοντας προς την μικρή κάμερα που εστάλη μέσα στο ακουστικό κανάλι της για να μάθει τι προκαλεί το πρόβλημα.
Πώς έγινε η τρομακτική αποκάλυψη
Μια Κινέζα, ανέφερε σε τοπικά μέσα ενημέρωσης ότι πήγε στο νοσοκομείο αφού ένιωσε δυσφορία και άκουσε έναν περίεργο θόρυβο στο αυτί της. Είχε βγει έξω το βράδυ της προηγούμενης μέρας όταν ξεκίνησε το πρόβλημα.
Όταν η φαγούρα έγινε πολύ έντονη για να την αντέξει, πήγε νοσοκομείο υποθέτοντας ότι είχε μόλυνση.
Μια έρευνα αποκάλυψε ότι η πραγματική αιτία ήταν ελαφρώς πιο περίπλοκη.
Όταν οι γιατροί τοποθέτησαν την κάμερα μέσα στο αυτί της, το ανατριχιαστικό έντομι ήρθε ορμητικά προς το φακό, κάνοντάς τον να φαίνεται πολύ μεγαλύτερος από ό,τι ήταν στην πραγματικότητα.
Ο γιατρός κατάφερε να αφαιρέσει την αράχνη χρησιμοποιώντας ένα ηλεκτρικό ωτοσκόπιο, το οποίο είναι μια συσκευή που χρησιμοποιούν οι γιατροί για να κοιτάζουν μέσα στα αυτιά των ανθρώπων.
Source: Newsbeast.gr