Last Wednesday, 13 October 2021, the 1st Elementary School of Siatista had the joy and the honor to host in Siatista and in the event hall of the Trabantzeio Gymnasium the teacher and mother of the gold medalist of Tokyo, Miltos Tentoglou.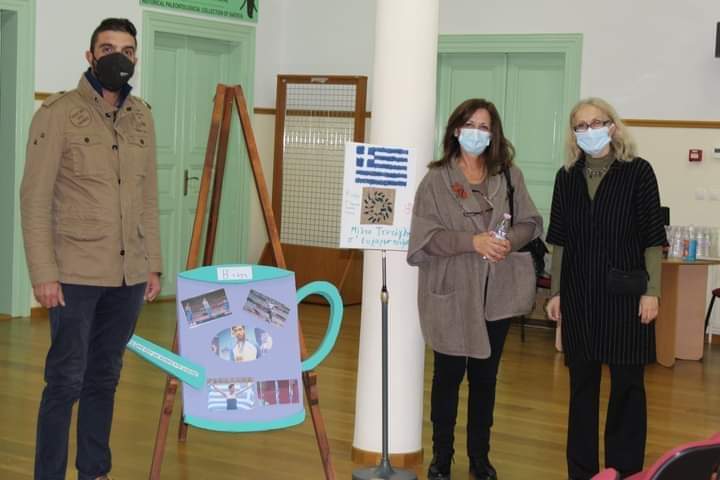 Mrs. Ioanna Papadimitriou accepted the invitation of the second grade teacher, Michalis Douvlou, and traveled from neighboring Grevena for an open discussion with the students' parents. What better seminar than listening to a person, with his thoughts, his concerns and the way he handles various situations for his children.
37 Mrs. Ioanna has been a teacher at the Greek public school for many years. He always had something useful to say to the parents of the students of the 2nd grade of the 1st Primary School of Siatista. The simplicity of her character, kindness and humility gave the opportunity for a beautiful meeting, with many benefits. On a complex subject, with many parameters, education, Mrs. Ioanna expressed her opinion and certainly reminded us of things that the difficult everyday life may keep us away.
On the occasion of her own visit, concepts such as "standards" were discussed, "Objectives", "Limits", "hobby", as well as a host of other "trips" involving children.
The event took place, after consultation with Mr.. Romiopoulos, head of EODY in the prefecture of Kozani, observing all measures against the spread of the coronavirus (vaccination certificate, disease or rapid test, mask).
An event without children but an event for παιδιά children. A school open to society, a school that tries to keep that in mind behind every child, there is both his character and his family. A school that takes care to give help to the parents of its students. A school that sees reality face to face and is not content with sterile knowledge alone.
The guest was welcomed by the school principal with her speech, Mrs. Stefou Zoi - Despina, greeted the teacher of the students and then a video was presented to Ms. Papadimitriou - a tribute of the children to the gold medalist, her son. After the conversation with the parents, the mother was given a frame - made by the students.
The 1st Primary School of Siatista warmly thanks Mrs. Ioanna Papadimitriou. With her visit to Siatista, contributed to the educational work of the school. The conversation with her alone was a different one, pleasant trip, landed on earth and in reality…
In addition, Thanks also to the Municipality of Voio for the concession of the hall of Trabantzeio Gymnasium.
"Water your life with love and knowledge"