Μια εξπρές αλλαγή του καιρού που θα φέρει βροχοπτώσεις και σποραδικές καταιγίδες αναμένουν την Τσικνοπέμπτη οι μετεωρολόγοι.
Σύμφωνα με τον μετεωρολόγο Σάκη Αρναούτογλου, ο καιρός την Τετάρτη θα είναι γενικά καλός, όμως προς το βράδυ θα κάνουν την εμφάνισή τους νεφώσεις -με τοπικά φαινόμενα- from the west.
On Thursday, όπως αναφέρει το δελτίο καιρού της ΕΜΥ, αναμένονται βροχές και σποραδικές καταιγίδες, αρχικά στα δυτικά της χώρας και στη συνέχεια στην υπόλοιπη χώρα. According to EMY, τα φαινόμενα πιθανώς να είναι κατά τόπους ισχυρά στα δυτικά και βαθμιαία στα νησιά του βορείου και ανατολικού Αιγαίου.
Ο καιρός της Τσικνοπέμπτης
Για τον καιρό της Τσικνοπέμπτης, ο Σάκης Αρναούτογλου υποστήριξε ότι η εξπρές μεταβολή του καιρού θα οφείλεται σε μια σχετικά ψυχρή αέρια μάζα που θα επηρεάσει αρχικά την κεντρική και τη βόρεια Ελλάδα. Οι ψυχρές αέριες μάζες θα κατέβουν νοτιότερα και σε συνδυασμό με τους βοριάδες (6 with 8 Beaufort) θα ρίξουν αισθητά τη θερμοκρασία σε αρκετές περιοχές.
Ο χάρτης της ΕΜΥ για τον καιρό το απόγευμα της Τσικνοπέμπτης: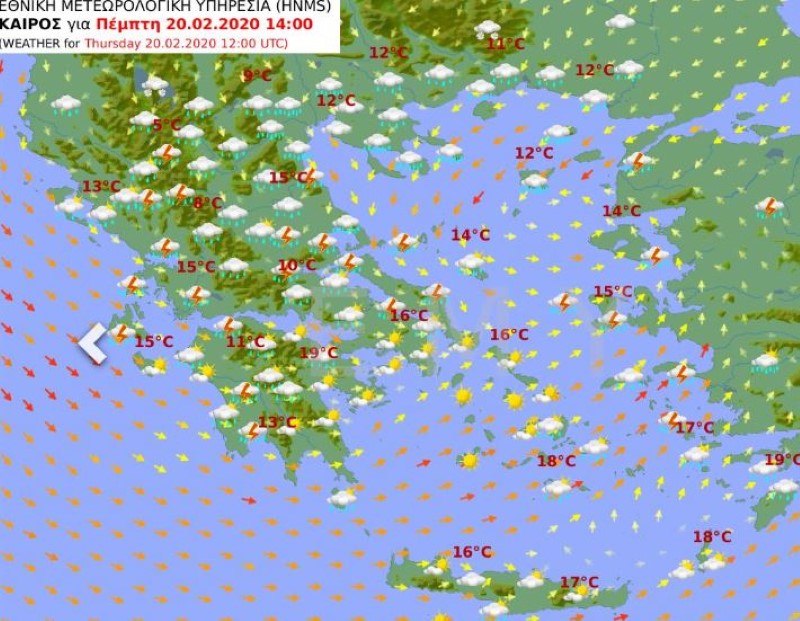 Nevertheless, τα φαινόμενα του καιρού θα εξασθενήσουν σύντομα και ήδη από το βράδυ θα αρχίσουν να περιορίζονται στα ανατολικά και νοτιοανατολικά. Για το πρωί της Παρασκευής ο καιρός θα είναι άστατος μέχρι το απόγευμα στη νότια νησιωτική χώρα.
Source: iefimerida.gr