In the 84 cases in Greece – Anxiety after the four "orphans" - "Rapid growth is certain" say experts.
Further increase of cases in our country but also cases that do not come from already known sources of transmission, we will have to wait for the next few weeks, mentioned in his briefing to the medical authors, the representative of the Ministry of Health for the coronavirus, infectious disease specialist, Sotiris Tsiodras.
Mr.. Tsiodras announced 11 new cases, raising the total number of cases in our country to 84.
It's about 81 Greeks and 3 foreign nationals. The 56 cases are associated with pilgrims to the Holy Land, 47 were travelers and others 9 contacts of these travelers.
As mentioned by Mr.. Tsiodras, 27 people are hospitalized, one of whom with severe pneumonia at the University Hospital of Patras. In isolation in their home, in good condition, are monitored 57 other confirmed cases.
Mr.. Tsiodras, for the first time, referred to 4 cases that have no exposure history, that is, more simply, are not related to the confirmed cases so far and the source of transmission of the virus to them can not be determined, however their contacts are tracked.
The Minister of Health, Vassilis Kikilias from his side, stressed in a strict style, that it is the duty and duty of all to protect vulnerable groups.
The disease is mild, however it is highly contagious, stressed Mr.. Kikilias, pointing out that this is why it puts vulnerable groups at risk. "I ask vulnerable groups to sit at home", underlined and continued: "I ask those who have flu symptoms to stay at home, to limit their movements to the absolutely necessary ".
"The next two months are very critical", added the Minister of Health
Mr.. Tsiodras also added, that the committee proposed new measures to reduce the epidemic in the community.
He emphasized the vulnerable groups of the population, and essentially talked about people over 70 years, with chronic cardiovascular, Respiratory problems, patients with diabetes but also those suffering from chronic immunosuppressive conditions.
Mr.. Tsiodras spoke once again about the observance of the rules of hygiene in gatherings over 50 people, citing the example of city councils, while he said that all events above are canceled 1.000 people and the Athens half marathon.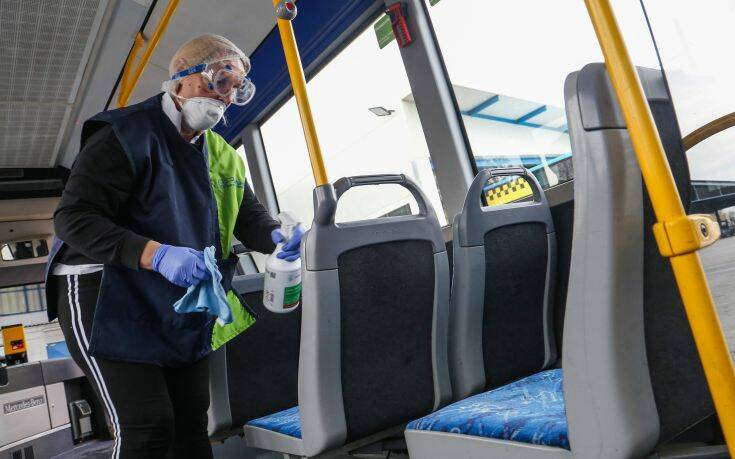 The Committee of Experts of the Ministry of Health today proposed the following measures:
Strong recommendation to avoid unnecessary travel and coloring, wherever they are, internal or external, to people belonging to vulnerable groups. These groups include patients over 70 years, patients with chronic cardiovascular disease, patients with chronic respiratory diseases, patients with diabetes mellitus and patients with chronic immunosuppressive conditions, as determined by their doctor.
Regarding vulnerable groups The committee recommended strict adherence to hygiene measures and a ban on unnecessary visits to day care centers., rehabilitation centers, day care units and artificial kidney units.
Alongside, there will be provision for renewal of the prescription of patients with chronic diseases up to 30 June 2020.
In addition, committee recommended suspension of cultural and artistic events indoors and outdoors that include above 1.000 individuals, as well as the Athens half marathon.
also, Strict adherence to hygiene measures was suggested in any gathering involving more than 50 people, in which it was suggested that the possibility of a teleconference be considered. I cite the municipal councils as an example.
In addition, recommended that laboratory testing be performed under strict clinical and epidemiological criteria, as defined by EODY.
"Our target, which as time goes by will remain and be strengthened, is to reduce the spread of the disease in the community as much as possible, to delay the onset of the disease for as many weeks as possible. To observe the peak of the disease activity later and thus reduce the effects on the whole population, but especially in vulnerable groups ", concluded Mr.. Tsiodras.
New video with detailed instructions for the coronavirus
ΥΠΑ: Suspended until 23 Of March 2020, flights to and from Milan
All flights to and from Northern Italy from all Greek airports are suspended and all airlines, From today 9 March to 23 Of March 2020, as announced by the Civil Aviation Authority.
Specifically, as mentioned in a relevant announcement "the CAA giving priority to passenger and flight safety and harmonized with the instructions of the Ministry of Health and EODY, proceeds as a precautionary measure against COVID19 to temporarily suspend all flights to and from Northern Italy.
The relevant NOTAM is valid from today 9 Of March 2020 until 23 Of March 2020 and concerns all the airports of Northern Italy and specifically the regions (Emilia Romagna, Piedmont, Lombardy and Veneto)».
It is noted that the flight suspension applies to all airports in Greece and all airlines.
Source:Newsbeast.gr