The difficult task of locking lignite plants in his prefecture, the "energy" chapter and the electrification project
"The only way to be in politics tomorrow is to take advantage of the opportunities you have today," he says, speaking loudly, in "Espresso", The Undersecretary of Infrastructure, Of Transport and Networks Michalis Papadopoulos, interpreting the way he perceives politics.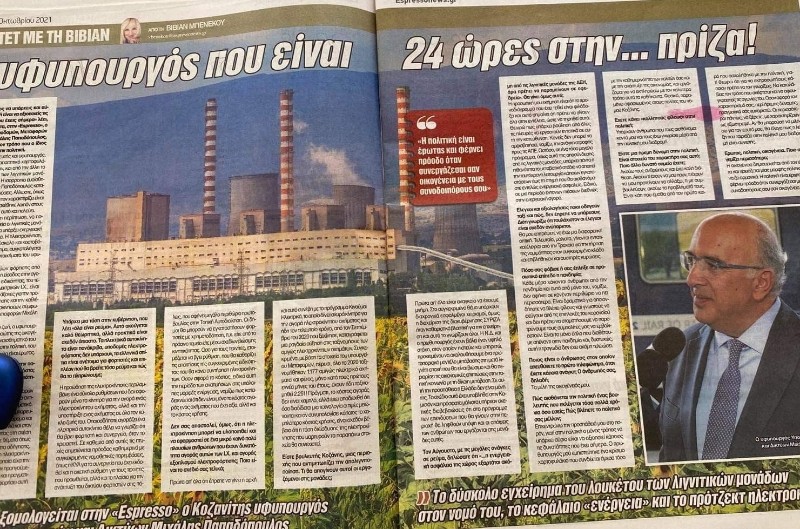 The Kozani MP and Deputy Minister, on the one hand it has the demanding portfolio of Transport, and on the other hand the difficult closure of lignite plants in its prefecture. The balance is delicate, Nevertheless, Michalis Papadopoulos succeeds and promotes solutions. After all, as he says, what characterizes it is consistency. THE,so what he promised his voters, That's why he fights.
In this case, to keep the lignite units of PPC in reserve, until there is energy security for the country. The electric drive, which is a very difficult and costly government bet, is also one of the Undersecretary of State's political bets.
The development of charging networks by the municipalities, but also the entry into the labor market of a new specialty, of the craftsman and maintainer of electrical I.X., are two of the main axes for the promotion of electric mobility and the introduction of green mobility, according to Deputy Minister of Transport Michalis Papadopoulos.
In his personal life, the Undersecretary remains a staunch supporter of the family. There he finds his emotional refuge. There, but also in politics, which for Michalis Papadopoulos is love.
With what would you like to seal your presence in the specific post; What is your number one priority?;
In every field in the field of Transport there are challenges that must be addressed quickly and effectively. In transport, road and freight transport, by rail and air, but also in the reduction of bureaucracy in the relationship of the citizen with the State, in subjects such as exams and driving licenses. There are issues, such as electricity and waterways, in which I was fortunate to make the beginning of my previous tenure in the ministry and I would really like this effort to bear fruit.
There is a tendency in government, that says "everything is electricity". That sounds good in theory, but it is practically elusive. Electric cars are very expensive, electrical charging infrastructure does not exist, Greek houses are unprepared for chargers and in addition where will you find so much electricity and how will we pay for it;
The promotion of electric vehicle includes a set of regulations that do not only concern the incentives for the purchase of an electric vehicle, but also the support of a vehicle throughout its life cycle. Anyone who buys an electric car wants to know that they will find a charger and a workshop, when needed. Progress is being made in each of these aspects on a daily basis with specific legislative interventions, such as the JMC for the workshops that has been issued and the relevant regulation for the craftsmen that is promoted, but also the framework for the development of the charger network in cities, which leaves a lot of room for initiative in the Local Government. Municipalities will be able to install chargers with funding, e.g. either from the green fund or through sustainable mobility plans. As for the craftsmen, preparing to come out setting, which will determine the requirements of the specific specialty that will do maintenance of electric vehicles. In terms of cost, especially during this period of price increases in other forms of energy, I think it turns out that it is not just the cost of buying a vehicle that has value, but also the cost of use.
You do not care, Nevertheless, that e-mobility can be implemented and applied to a small audience of very rich people who can afford these cars. and purchase of charging equipment; What is your plan after all?;
First of all, the beginning had to be made and that happened with the Electric Move program, which gives strong incentives to buy an electric vehicle and already in the last year, since September 2020 that started, there is a rapid increase in the registrations of purely electric vehicles. Specifically, based on data from the Ministry of Transport, last year, the whole 2020 were classified 1.177 purely electric vehicles this year as well, only during the first nine months of the year, have already been classified 2.261! Actually, the purchase cost is not low, but it has been shown that as technology spreads prices fall even if one takes into account the lower cost of use, It is almost certain that the penetration trend of electrification as evidenced by the above data will continue.
You are an MP from Kozani, an area facing de-lignification. What will become of these employees in the units;
First of all, it is necessary to have a memory. In this case, there are timeless mishandling, but the management of the SYRIZA government was decisively detrimental to the company and everyone knows that. The N.D.. and the Prime Minister have set a high goal, in whom I believe and serve, in order to follow a pioneering transition model to the post-lignite era that will be sustainable and reduce the economic impact on the local community with a fair transition. Greece is not alone in this effort. This plan has been submitted to the Commission and recently there have been relevant assurances that the investment program that will be made in the region will take into account the views of the people who work in these units..
In August, with high power needs, You stated that "της the country's energy security still depends on PPC lignite plants, so they have to stay in reserve ". But it will happen;
My personal assessment is that the timetable that has been set is ambitious and that means that everything must be done to perfection, to comply with this. I believe that there is a will on all sides to work intensively in this direction. No one can dispute, I think so, the need to turn to RES. However, in such a large program, such as that of disconnection from lignite plants, there is always the possibility that the transitional phase will require the simultaneous operation of some facilities until we feel completely energy safe. Especially, at a time of intense international pressure on the energy market.
Checks and evaluations of who drives taxis and how, they should not have existed; Because I know that at least the controls are almost non-existent.
You will allow me to have a different perspective. Last, in fact, Intensive controls are carried out by the Traffic Police for the observance of legality in the specific sector and severe sanctions were imposed.
How scared or hit you personally on the pandemic;
Every day people are lost from the pandemic and that in itself, I think so, leaves no room for anyone to say more. It is dramatic for anyone to see friends and acquaintances get rid of coronavirus complications and we must not stop urging our fellow citizens to get vaccinated. It is the only weapon we have against the pandemic and, unfortunately, this tragedy is not over yet.
Who is the person you are calling the first time?, when you have a need; Your man, that is,;
My family members.
How does a member of parliament who has been elected for so many years feel about politics?; How do you see your political future?;
I focus my effort on the present, because in politics the only way to have a tomorrow is to take advantage of the possibilities one has today. The Prime Minister entrusted me with a critical portfolio that is directly linked to both the daily life of the citizens and the development of the economy., and I work to fulfill these tasks in the best possible way. Of course, I remain devoted to the citizens of the prefecture of Kozani.
You have made "close friends" in politics;
There are people I feel close to and I have met through my political career.
You are a calm force in politics. This is an element of your character; What other strong point do you have?;
I listen to people and I am in a good mood. I hear what they have to say to me, what they have to suggest me to change, what do they advise me, I listen to their problems. It's something I learned from the first time I got involved in politics, because I think that in order to represent someone you have to know them. Understand the way he thinks and listen to his anxieties. Regarding your characterization, about calm power, really thank you. Most, however, you should know, they characterize me as extroverted. If I could talk about myself, I would say that the word that fits my political path is consistent.
Love, policy, family. Which fills you the most;
The family is created by love and needs some form of politics to live harmoniously. Politics is love and it brings progress when you work with your companions as a family.
Espessonews.gr