Shortly after seven in the afternoon on Sunday 21/08, there was a fire in Burino.

The fire, η οποία πιθανολογείται πως προκλήθηκε από πτώση κεραυνού, εκδηλώθηκε πίσω από την αριστερή κορυφογραμμή της κοιλάδας της Τσερβένας, στη θέση Σεφερτσές κι είχε κατεύθυνση προς την Παλιόχωρα και το Βύθο.

Κλήθηκε από μέλη του Ορειβατικού η Πυροσβεστική κι η Αστυνομία.
Άμεσα στην περιοχή βρέθηκαν τρία πυροσβεστικά οχήματα, τρία τζιπ της Πυροσβεστικής και οχήματα της αστυνομίας.
Το συντονισμό της επιχείρησης τον είχε ο ίδιος ο Διοικητής της Π.Υ. N. Kozani, Pyrarch Mr.. Αμανατίδης Ιωάννης.

Από Θεσσαλονίκη πέταξαν κι ήρθαν δυο καναντέρ τα οποία πρόλαβαν και πραγματοποίησαν δυο ρίψεις νερού το καθένα και περιόρισαν σημαντικά τη φωτιά η οποία άρχισε να γίνεται ορατή από την κόκκινη μπάρα.

Στη συνέχεια κι ενώ το σκοτάδι άρχισε να πυκνώνει, το έργο της πυρόσβεσης ανέλαβε η βροχή που ευτυχώς άρχισε να πέφτει ζωηρή.
Στη περιοχή παρέμεινε ένα όχημα της Πυροσβεστικής για τον κίνδυνο της αναζωπύρωσης.

Τους πυροσβέστες συνέδραμαν μέλη του ορειβατικού κι ο κυνηγός Ρετζέπης Νικόλαος δίνοντας κατάλληλες πληροφορίες για την περιοχή και τα σημεία πρόσβασης.

Την περιοχή επισκέφτηκε κι ο Δήμαρχος Βοίου κ. Ζευκλής για να έχει εικόνα του συμβάντος και των ενεργειών των αρχών.

Με το φως της ημέρας, υπό την καθοδήγηση και την συνοδεία των Ορειβατών επιχειρήθηκε από κλιμάκιο της πυροσβεστικής, προσέγγιση του σημείου εκδήλωσης της πυρκαγιάς, πραγματοποιώντας πεζοπορία.
Φωτογραφίες από τα καμένα στο Μπούρινο.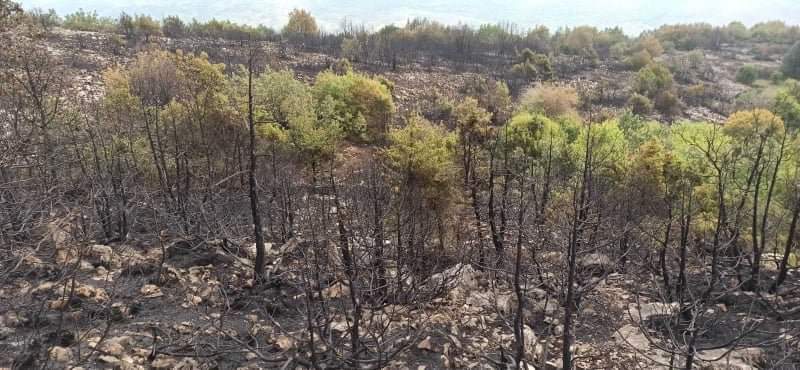 Κλιμάκιο της πυροσβεστικής αποτελούμενο από 15 firefighters, με την καθοδήγηση μελών του Ορειβατικού Συλλόγου Σιάτιστας, επισκέφτηκαν την περιοχή όπου εκδηλώθηκε χθες 21/08/22 the fire. Δεν υπάρχουν ευτυχώς εστίες φωτιάς κι οι ζημιές δεν είναι αρκετά μεγάλες.
Τα χειρότερα αποφεύχθηκαν για το βουνό μας, το οποίο θυμίζουμε πως αποτελεί περιοχή Νατούρα με σπάνια βιοποικιλότητα.