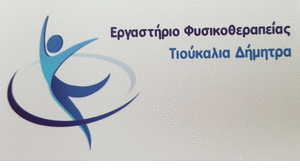 Published by the European Center for Prevention & Disease Control revised color maps depicting the epidemiological picture in EU Member States.
As can be seen from the data recorded on the map concerning the combined test index, new cases and a positive indicator for the period from 8 until 21 January, our country continues to have the only green color in the EU.
THE Continent, the Ionian Islands, the Cyclades and the Dodecanese are the only "green" areas in all of Europe, on the map concerning the combined test index, new cases and positivity index. Greece, η Νορβηγία και η Φιλανδία είναι οι μόνες χώρες της ΕΕ που δεν είναι στο «κόκκινο».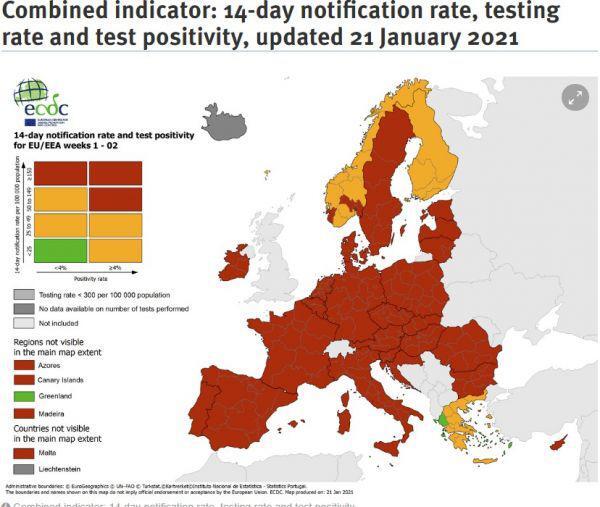 The whole of Greece is also in the "green" regarding the following map with the positivity index, with most of Europe remaining in the "yellow".
This means that in the whole territory the positivity index is below its alarm threshold 4%, unlike the rest of Europe, excluding some areas.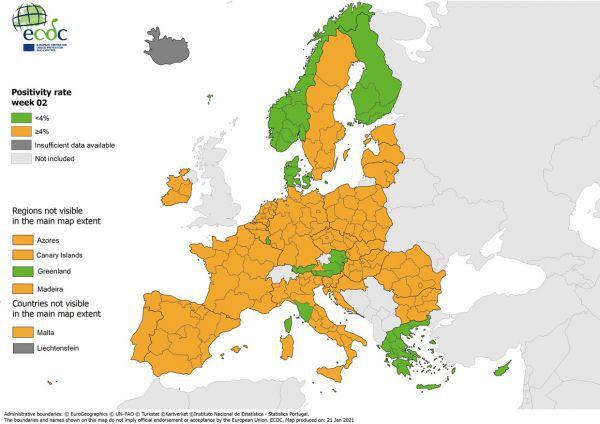 also, most of Greece is in orange in terms of the number of cases, per 100.000 residents.
However, Epirus, the Ionian and Cycladic islands and the Dodecanese are in the yellow color which means that they have fewer cases in the last 14 days.
At the same time most of Europe as shown in the map below is in the red zone which means they have 150 or more cases per 100.000 residents.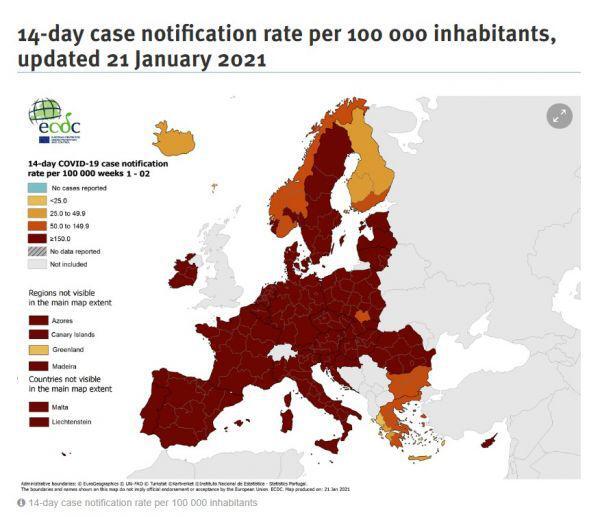 Note that the ECDC does not collect data on Britain, Switzerland, the Balkan countries (except those who are members of the EU), Ukraine, Belarus and Russia.
Υπενθυμίζεται ότι οι χάρτες του ECDC ανανεώνονται κάθε Πέμπτη, σύμφωνα με τη Σύσταση του Ευρωπαϊκού Συμβουλίου που έχει ως στόχο την εφαρμογή μιας συντονισμένης προσέγγισης μεταξύ των χωρών της ΕΕ όσον αφορά τον περιορισμό της ελεύθερης κυκλοφορίας για την αντιμετώπιση της πανδημίας.
Source: Real.gr