The big fire in Achaia is in full swing, with firefighters fighting hard in Ziria.
«Σε μία χαράδρα βρίσκεται σήμερα το πρωί το κύριο μέτωπο της φωτιάς στην Ζήρια», ανέφερε στο ΑΠΕ-ΜΠΕ, ο δήμαρχος Αιγιαλείας, Δημήτρης Καλογερόπουλος, σύμφωνα με την ενημέρωση που έχει από την Πυροσβεστική Υπηρεσία, προσθέτοντας ότι «δίνουν μάχη τα εναέρια μέσα και οι επίγειες δυνάμεις της Πυροσβεστικής».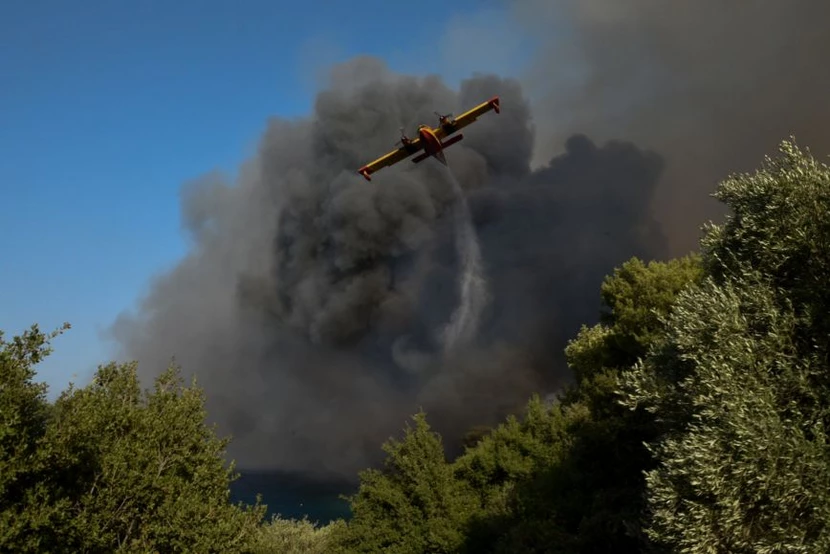 Όπως επισήμανε ο δήμαρχος, «αυτήν την ώρα δεν απειλούνται κατοικημένες περιοχές», ενώ όσον αφορά στις ζημιές που προκλήθηκαν από την πυρκαγιά, σημείωσε ότι «αν και δεν έχει γίνει ακόμα καμία επίσημη καταγραφή, at least 10 σπίτια έχουν καεί ολοσχερώς στην περιοχή της Ζήριας, ενώ υπάρχουν ζημιές κυρίως σε περιβάλλοντες χώρους σπιτιών στην περιοχή του Λαμπίρι και σε αποθήκες».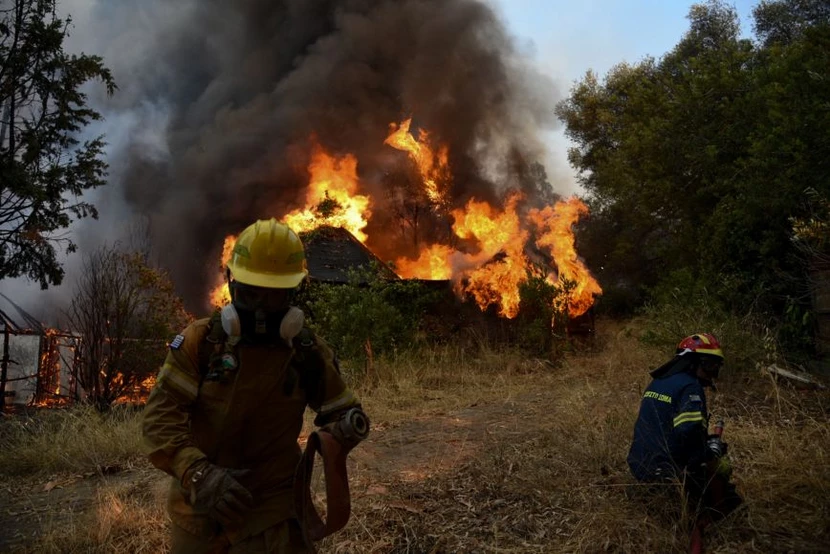 Achaia:
Σε επιφυλακή το Λιμενικό
«Σε επιφυλακή εξακολουθούν να βρίσκονται, λόγω της φωτιάς, σκάφη του Λιμενικού στην θαλάσσια ζώνη στο ύψος της Αιγιάλειας, in order that, if needed, να παράσχουν βοήθεια», ανέφερε στο ΑΠΕ-ΜΠΕ, ο διοικητής της 5ης περιφερειακής διοίκησης του Λιμενικού, αρχιπλοίαρχος Δημήτρης Κυριακουλόπουλος.
As he mentioned, «ένα πλωτό σκάφος περιπολεί συνεχώς, ενώ ακόμα δύο βρίσκονται σε ετοιμότητα στο λιμάνι του Αιγίου και στο νησί Τροιζόνια». also, πρόσθεσε ότι «δύο ακόμη ταχύπλοα βρίσκονται σε επιφυλακή στο λιμάνι της Πάτρας και αν χρειαστεί μέσα σε περίπου 10 λεπτά θα έχουν καταπλεύσει στην θαλάσσια περιοχή της Αιγιάλειας».
Αναφερόμενος στη χθεσινή μεγάλη επιχείρηση του Λιμενικού, για τον απεγκλωβισμό πολιτών από τις παραλιακές περιοχές Μπούκα, Λόγγος και Πεύκη, είπε στο ΑΠΕ-ΜΠΕ ότι «εκτός από τα πλωτά σκάφη, στελέχη του Λιμενικού βρίσκονταν στην παραλιακή ζώνη, όπου εντόπιζαν όσους χρειάζονταν βοήθεια και τους οδηγούσαν στα σκάφη, ώστε να μεταφερθούν με ασφάλεια στο λιμάνι του Αιγίου».
In fact, όπως επισήμανε στο ΑΠΕ-ΜΠΕ ο κ. Κυριακουλόπουλος, «υπήρξε άψογη συνεργασία με την Αστυνομία, την Πολιτική Προστασία και τις τοπικές Αρχές, για τον απεγκλωβισμό των πολιτών».
Source: Newsbeast.gr