To the Mayor of Velvento, Kozani,
Following previous complaints, I take a brand position of responsibility,
Κε Δήμαρχε Βελβεντού η πανδημία 'COVID 19' μας έχει περικυκλώσει μας έχει αλλάξει τη ζωή και εσάς η φροντίδα είναι η διαστρέβλωση, the forgery, και η απόκρυψη της Ιστορίας του Καταφυγίου;; We will not leave this like that!
Descendants of Fallen Shelter Heroes demand to see the names of their own people finally rewritten as before, so that they can tell the story to their children and explain who their grandfather was , ο προπάππος τους ή η προγιαγιά τους, you realize this;
You understand that;
You have no legitimacy to do this! Should the other power eventually be informed and intervene in your actions?; Μάλλον έτσι πρέπει να γίνει Κε Δήμαρχε Βελβεντού αν δεν διορθώσετε έγκαιρα το ατόπημά σας.
I wonder why such a refusal to transfer him "monument" σε περίοπτη θέση, square or school in the village of Katafygi;;;
Why such an obsession to stay in one "cancel" point, που δεν συνηθίζεται να βλέπουμε μνημεία, nowhere in Greece;;;
Η πλατεία του χωριού είναι τόπος κρεμάλας και εκτέλεσης των Καταφιωτών από τους Ναζί. Why not there;;; Where they recovered;;;
There is a similar monument in Velvento, fallen Katafiotes with the names of those who were set on fire and executed by the Nazis, in the square of Agios Dionysios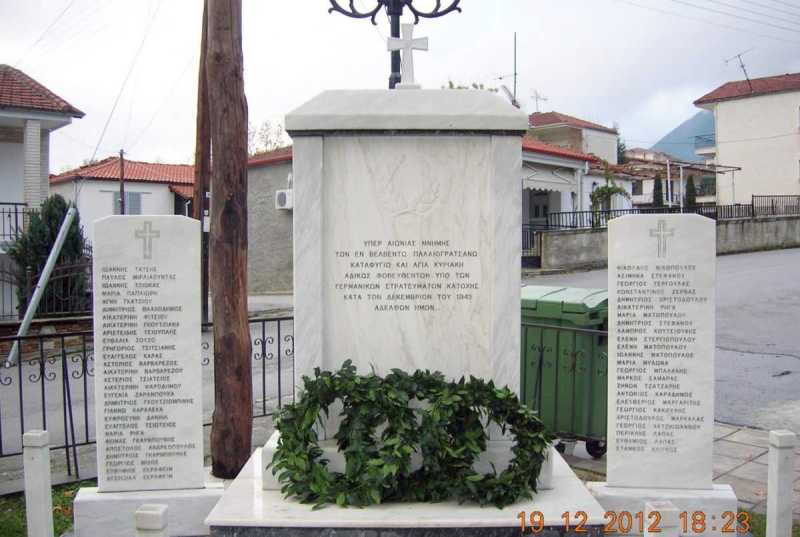 (photo 1).
Σήμερα όμως συνεχίζετε να κρατάτε επικαλυμμένα με πρόσθετες κάθετες πλάκες τα ονόματα των πεσόντων Καταφυγιωτών που θυσιάστηκαν για την πατρίδα σε όλες τις πολεμικές περιόδους της χώρας.
Support does not in any way mean price. Απόδοση τιμής σημαίνει, a monument in a prominent position, με τα ονόματα πάνω των τέκνων του χωριού μας που έπεσαν για την πατρίδα σε όλες τις Ιστορικές στιγμές .
Here we are talking today about one "monument " placed on loose ground (photo2).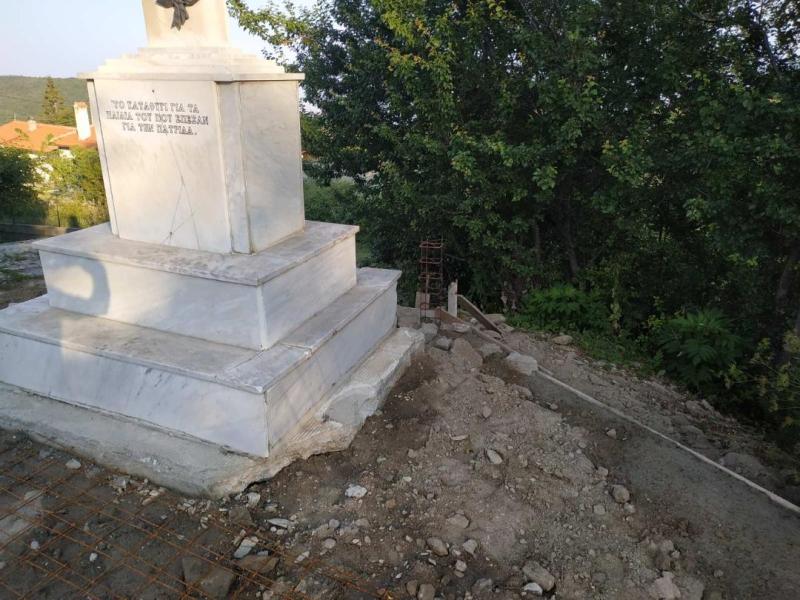 Let it… Let's hug…
Let us place it with love and responsibility and in consciousness… σε σημείο που υπάρχει και του αρμόζει αποκαλύπτοντας επιτέλους τα ονόματα!
And thus, will always connect us with the collective and historical memory, που αποτελεί μέρος της πολιτιστικής μας κληρονομιάς.
Katafygi is officially one of the many martyrdom villages in Greece, You know that, Mr. Mayor; Do something about it; Nothing, you are simply dividing the local community at your own risk! You can not bury the facts, let alone the truth…
With respect and honor to reality and truth
Theodoropoulou Despoin