Eggs are almost synonymous with protein. Given how much protein is actually in an egg - six grams in a large egg and seven in a very large one - it is not surprising that most of us rely so much on this affordable and versatile option to get our protein..
But let's say you do not like eggs or you are bored or you are just a vegan trying to increase his protein intake. Τι μπορείτε να κάνετε σε μια από αυτές τις περιπτώσεις προκειμένου να εξασφαλίσετε ότι προσλαμβάνετε επαρκή πρωτεΐνη; In fact, there are better sources of animal protein (e.g. meat, dairy products, fish), as well as various sources of vegetable protein (e.g. legumes).
10 foods that have more protein than one egg
1. Salmon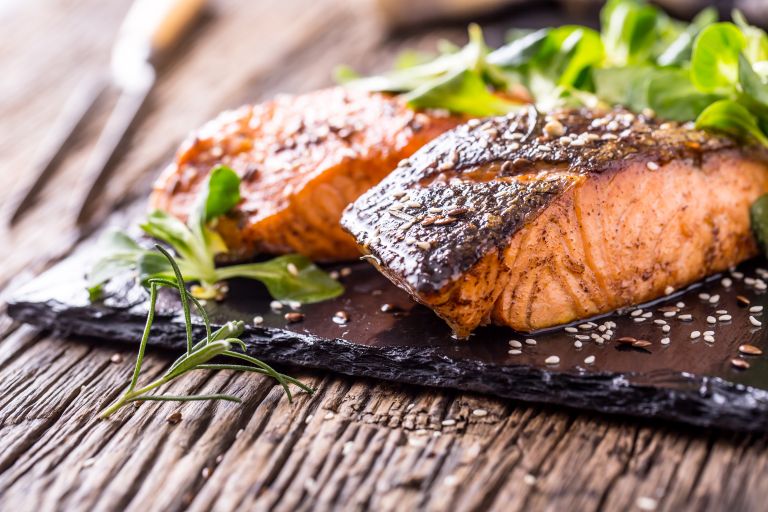 19 gr. protein per 85 gr. salmon
Rich in protein, omega-3 fatty acids and vitamin D., Salmon should not be missing from your diet.
2. Kefir
10 gr. protein per 1 φλ.
This viscous, Creamy drink is rich in protein, probiotics and flavor. Something between milk and yogurt, Kefir can be the basis for the most delicious smoothies.
3. Pumpkin seed
10 gr. protein per 1/4 φλ.
In addition to being rich in protein, Pumpkin seeds are high in magnesium. Do not hesitate, Well, to add a little pasatempo to your salad.
4. Tuna fish
31 gr. protein per 185 gr.
For some reason, canned tuna has not received the appreciation it deserves, despite being rich in protein and omega-3 fatty acids. Enjoy it in a lettuce salad or sandwich.
5. Peanut butter
8 gr. protein per 2 κ.σ.
Although it is more famous for its high fat content, Delicious peanut butter is also rich in protein. Spread it on a slice of wholemeal bread, in a rice wafer or enjoy it in a smoothie.
6. Turkey breast
26 gr. protein per 85 gr. (cooked)
It may not be very popular in Greek cuisine, but turkey is a very good source of protein.
7. Cottage cheese
12 gr. protein per 1/2 φλ.
If you are looking for a quick and easy way to add protein to your breakfast, as soon as you found him. In fact, το τυρί κότατζ είναι ιδανική επιλογή και για όσους κάνουν δίαιτα, αφού είναι εξαιρετικά φτωχό σε θερμίδες.
8. Lentils
9 gr. protein per 1/2 φλ. (μαγειρεμένες)
Οι φακές είναι εξαιρετικά πλούσιες σε πρωτεΐνη και φυτικές ίνες, γεγονός που τις καθιστά απαραίτητες στη διατροφή μας. Βρείτε το χρώμα φακής που σας αρέσει περισσότερο και φτιάξτε μια χορταστική καλοκαιρινή σαλάτα.
9. Yoghurt
20 gr. protein per 200 gr.
Το παραδοσιακό ελληνικό γιαούρτι είναι ένας από τους πιο νόστιμους τρόπους να πάρετε πρωτεΐνη, ενώ μπορεί να αντικαταστήσει επάξια ένα επιδόρπιο. Απλά προσθέσετε του λίγο μέλι και κομμάτια εποχιακών φρούτων.
10. Τόφου
8 gr. protein per 85 gr.
Πλέον υπάρχουν διαθέσιμα και άλλα υποκατάστατα κρέατος, αλλά το κλασικό τόφου παραμένει μια πραγματικά εξαιρετική πηγή φυτικής πρωτεΐνης για τους vegan και τους vegetarian.
Source:vita.gr