Anatolia College was visited on Wednesday 9 September 2020 Elizabeth K. Lee, the new US Consul General in Thessaloniki. Την κ. Lee was welcomed by the President of Anatolia College Dr. Panos Vlachos at the historic Macedonia Hall, and then guided her on campus and in the new building infrastructure of the non-profit educational organization.
The Consul General visited major infrastructure projects and innovative educational facilities that were implemented thanks to the contribution of the US Government.. USAID / ASHA (United States Agency for International Development/ American Schools and Hospitals Abroad). Among them is the Indoor Gym, the "Innovation Island" («Innovation Isle») – που στεγάζει το Fabrication Lab και το Κέντρο Πράσινης Εκπαίδευσης -, flexible learning rooms, the Eleftheriadis Library.
End, η Γενική Πρόξενος ξεναγήθηκε στο Anna Papageorgiou STEM Center που ολοκληρώθηκε πρόσφατα και θα αποδοθεί σε χρήση τον επόμενο μήνα. The new building was designed by the schema architectural firm 4 architects, impressively incorporates the principles of bioclimatic design, technological innovation and environmental responsibility. It houses Physics laboratories, Chemistry and Biology, multipurpose space and open learning space, where innovative will be implemented, educational activities for students of both Anatolia College and the wider community.
In a post on twitter, Ms.. Lee described Anatolia College as a beacon of American culture, culture and education in Northern Greece, as well as part of the history of Thessaloniki but also part of the future of the city with the new STEM building that will introduce good practices and technologies from the USA for the benefit of the youth and the educational community of the region ".
For his part, the President of Anatolia College Dr. Panos Vlachos described the new building as "an ideal expression of the constructive cooperation that Greece and the USA can have in the fields of Technology and Science for the benefit of education., of society and the environment "and wished every success to Mrs.. Lee in her new duties.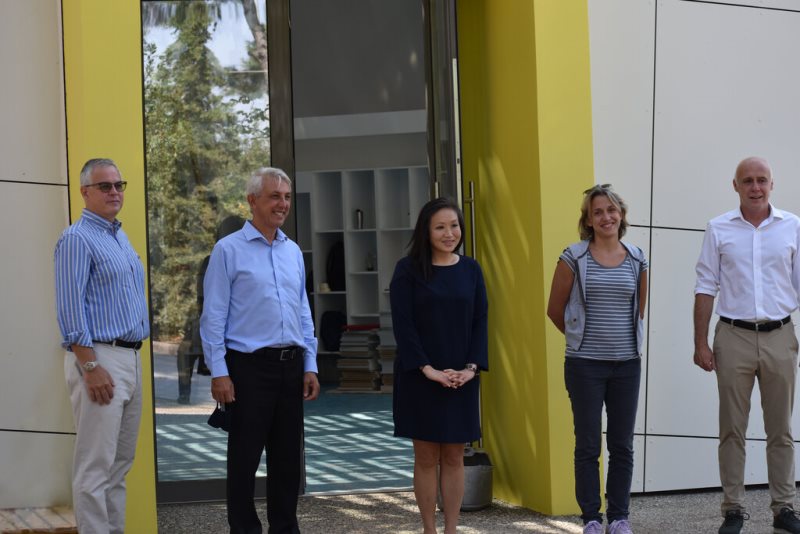 At the entrance of the new Anna Papageorgiou STEM Center building. From the left Peter Chresanthakes, Vice President of Institutional Advancement of Anatolia College, Δρ Πάνος Βλάχος, Πρόεδρος Κολλεγίου Ανατόλια, Elizabeth K. Lee, Γενική Πρόξενος των ΗΠΑ στη Θεσσαλονίκη, Πηγή Παχίνη, αρχιτέκτονας και υπεύθυνη του εργοταξίου, Tομή ΑΒΕΤΕ, Γιάννης Τσορμπατζόγλου, Chief Operating Officer for Planning & Innovation & Vice President for Cross Divisional Programs του Κολλεγίου Ανατόλια.