The cold is bitter today in the semi-mountainous parts of the country as well as in the plains of Northern Greece..
The table shows the 8 stations of the network of automatic meteorological stations of the National Observatory of Athens / meteo.gr (excluding mountain refuges and ski resorts) who recorded the lowest minimum temperatures.
The lowest temperature was recorded in Paranesti, Drama (-8,5 points) and the New Caucasus followed (-8,3) and Nevrokopi (-7,9).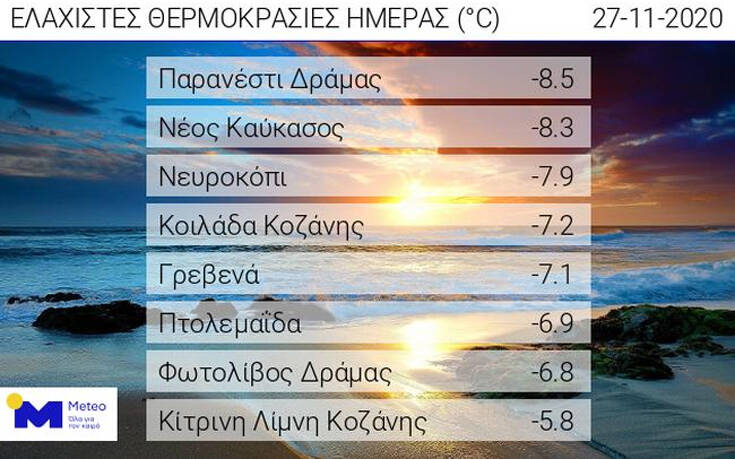 To 400 the active meteorological stations
For the first time since the beginning of the operation of the network of meteorological stations National Observatory of Athens/meteo.gr, it now consists of 400 simultaneously active meteorological stations.
This is the largest network of active meteorological stations in our country, for which the process of inclusion in the databases of the World Meteorological Organization has begun.
The goal of the scientists of the Observatory is the further expansion of the network of meteorological stations in Greece in the coming years., especially in areas that are not adequately covered so far.
In total, according to the meteo, are installed and in operation 430 meteorological stations, but for various reasons, mainly due to power outages, are offline for a few hours or days.
According to the website of EMY, the network of surface meteorological stations includes 141 stations nationwide.
Source: Newsbeast.gr