Many times a severe cold and a mild flu can occur with about the same clinical picture..
Στον παρακάτω πίνακα που είναι αναρτημένος στην ιστοσελίδα του ΕΟΔΥ παρουσιάζονται οι «κλασικές» διαφορές μεταξύ του κοινού κρυολογήματος και της γρίπης -παρότι τα συμπτώματα αυτά δεν εμφανίζονται πάντα.
Το κοινό κρυολόγημα προκαλείται από ιούς διαφορετικούς από τους ιούς της γρίπης. Τα συμπτώματά του συνήθως είναι πιο ελαφρά, περιορίζονται στο ανώτερο αναπνευστικό (catarrh, sneeze, sore throat), διαρκούν λιγότερο, ενώ σπάνια συμβαίνουν επιπλοκές. On the contrary, η γρίπη μπορεί να προκαλέσει σοβαρή νόσηση και επιπλοκές που καμιά φορά μπορεί να είναι θανατηφόρες για κάποια άτομα, e.g. άτομα με χρόνια νοσήματα.
Οι διαφορές κρυολογήματος και γρίπης: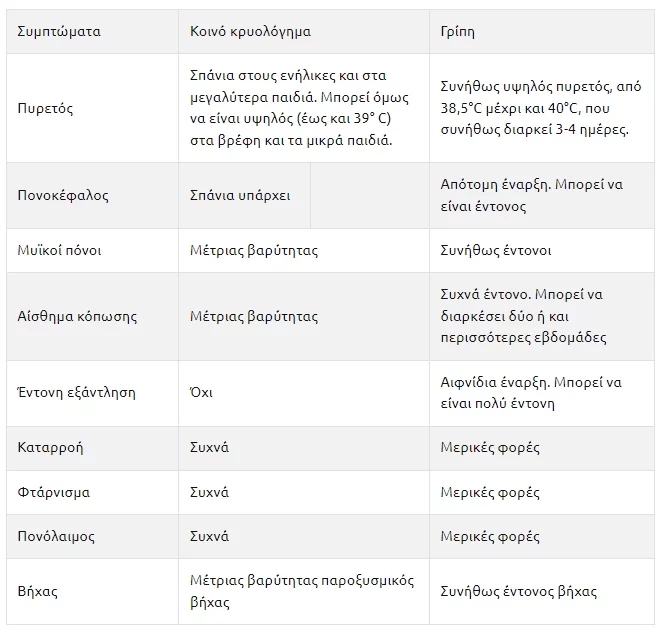 Source: National Public Health Organization
Ξεκίνησε η συνταγογράφηση για το αντιγριπικό εμβόλιο
Υπενθυμίζεται ότι στα ράφια των φαρμακείων βρίσκονται τα αντιγριπικά εμβόλια και από την 1η Οκτωβρίου έχει ξεκινήσει η συνταγογράφηση. Έχουν ήδη παραληφθεί 1,7 million. doses of influenza vaccine, while this year's goal is 4,2 million. vaccines
Η διάθεση των αντιγριπικών εμβολίων θα γίνεται μόνο με ηλεκτρονική συνταγή εκτός κάποιων ειδικών περιπτώσεων όπου θα γίνεται χειρόγραφη συνταγογράφηση και αυτές είναι:
A) Insured bodies that have not joined the Electronic Prescribing system.
B) Citizens (tourists) from countries outside the European Union as well as European citizens who do not hold an EAEC (European Health Insurance Card).
C) Immigrants, who for various reasons have not obtained an AMKA or Temporary Insurance and Health Care Number for a foreigner (ΠΑΑΥΠΑ).
Οδηγίες χρήσης του αντιγριπικού εμβολίου
The flu vaccine should be given early and before the onset of the usual flu-like outbreak., as they are required approximately 2 weeks to achieve an immune response. Preferably the vaccination should be completed at least 4-6 εβδομάδες προ της ενάρξεως του ετήσιου επιδημικού κύματος της γρίπης στην Ελλάδα (δηλαδή μέσα – μέχρι τέλος Νοεμβρίου). in addition to, ο εμβολιασμός συνεχίζεται καθ' throughout the season for the flu for people who are vaccinated and have not been vaccinated in time. Συγχορήγηση με το εμβόλιο κατά του κορωνοϊού .
Το αντιγριπικό εμβόλιο μπορεί να χορηγηθεί ακόμη και την ίδια μέρα με το εμβόλιο κατά του κορωνοϊού -αλλά σε διαφορετικά ανατομικά σημεία- όπως και οποιαδήποτε άλλη μέρα πριν και μετά το εμβόλιο κατά του κορωνοϊού.
Τι γίνεται αν κάποιος νοσεί από Covid-19
Ασυμπτωματικοί ή προσυμπτωματικοί ασθενείς με θετικό εργαστηριακό έλεγχο Covid-19 πρέπει να κάνουν το αντιγριπικό εμβόλιο μόλις ολοκληρώσουν την απομόνωσή τους.
Συμπτωματικοί ασθενείς με λοίμωξη Covid-19 πρέπει να αναβάλλουν τον εμβολιασμό τους μέχρι να ολοκληρωθεί η απομόνωσή τους και να υφεθεί η συμπτωματολογία της νόσου.
Coronavirus and influenza: Green light for parallel vaccination - When does the prescription start?
Ασυμπτωματικά άτομα που ήρθαν σε επαφή με επιβεβαιωμένο κρούσμα Covid -19 και έχουν αρνητικό εργαστηριακό έλεγχο μπορούν να εμβολιαστούν κανονικά.
Με άλλα λόγια όσοι είναι θετικοί περιμένουν να κάνουν το εμβόλιο μόλις έχουν αρνητικό τεστ, και όλοι οι υπόλοιποι το κάνουν κανονικά.
Συστάσεις εμβολιασμού
Σύμφωνα με το Εθνικό Πρόγραμμα Εμβολιασμών της Ελλάδας, Influenza vaccination should be given systematically and as a matter of priority to individuals (adults and children) belonging to the following high risk groups:
People of age 60 years and older
Children (6 months and over) and adults with one or more of the following aggravating factors or chronic diseases: Chronic respiratory diseases, such as asthma, chronic obstructive pulmonary disease. Heart disease with severe hemodynamic disorder. Immunosuppression (hereditary or acquired). Organ transplantation and bone marrow transplantation. Sickle cell anemia (and other hemoglobinopathies). Diabetes mellitus or other chronic metabolic disease. Chronic kidney disease. Chronic liver disease. Νευρολογικά-νευρομυϊκά νοσήματα. Down Syndrome
Pregnant women regardless of gestational age, lactating and lactating.
People with morbid obesity (Body Mass Index >40Kg/m2) and children with BMI >95ηΕΘ.
Children taking aspirin for a long time (e.g. for Kawasaki disease, rheumatoid arthritis and others).
People who are in close contact with children under 6 months or care for or live with people with an underlying disease, which increases the risk of influenza complications.
Closed populations, such as staff and in-house students (schools, military and police schools, special schools etc.), recruits, institutions for the chronically ill and nursing homes, booking stores .
Employees in health care facilities (medical staff, other employees, students of health professions in clinical practice) and in refugee-immigrant accommodation centers.
Homeless.
Veterinarians, poultry farmers, pig farmers, breeders, butchers and people in general who come into regular contact with birds or pigs.
Source: iefimerida.gr