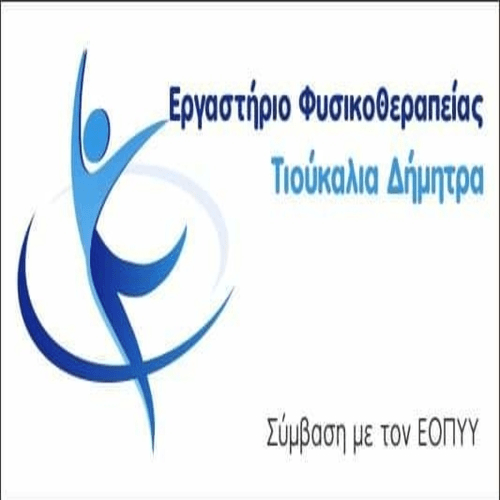 A Syriza executive commented with sexist reports about the appearance of Fofi Gennimata, the speech of the head of KINAL in Parliament.
Ο συντονιστής των οργανώσεων του Σύριζα της Αρκαδίας κατηγορεί στο facebook την πρόεδρο του ΠΑΣΟΚ, πως εμφανίστηκε με… «στυλ αναρχικής πολιτικού, αχτένιστη-άβαφη και ατημέλητη!». Μάλιστα δεν την αποκαλεί Φώφη, αλλά Φωφώ…
Συγγραφέας των απαξιωτικών σχολίων είναι ο Τάσος Παπαζαχαρίας, «συντονιστής της ΝΕ, υπεύθυνος της γενικής εποπτείας όλων των οργανώσεων της Αρκαδίας για την ομαλή και αποτελεσματική λειτουργία τους καθώς επίσης και υπεύθυνος Τύπου και ενημέρωσης» του ΣΥΡΙΖΑ στην περιοχή.
His post, μετά τη συζήτηση στη Βουλή για την πορεία των διαπραγματεύσεων:
«Κ Α Λ Η Μ Ε Ρ Α φίλες και φίλοι μου!
Με στυλ αναρχικής πολιτικού, αχτενιστη-αβαφτη και ατημελητη, εμφανίστηκε η Φωφω χθες στη βουλή και υπερέβη κάθε όριο λογικής!
Δε με νοιάζει τι λέτε και τι κάνετε!
Δε με νοιάζει αν είστε κοντά σε συμφωνία!
Δε με νοιάζει αν θα βγούμε από τα μνημόνια!
Θέλω εκλογές εδώ και τώρα είπε,
ξεπερνώντας ακόμη κι αυτόν τον Λεβεντη!
Μάταια ο Κυριάκος προσπαθούσε να την πείσει να γίνουν οι εκλογές όχι τώρα αλλά τον Σεπτέμβριο!!!».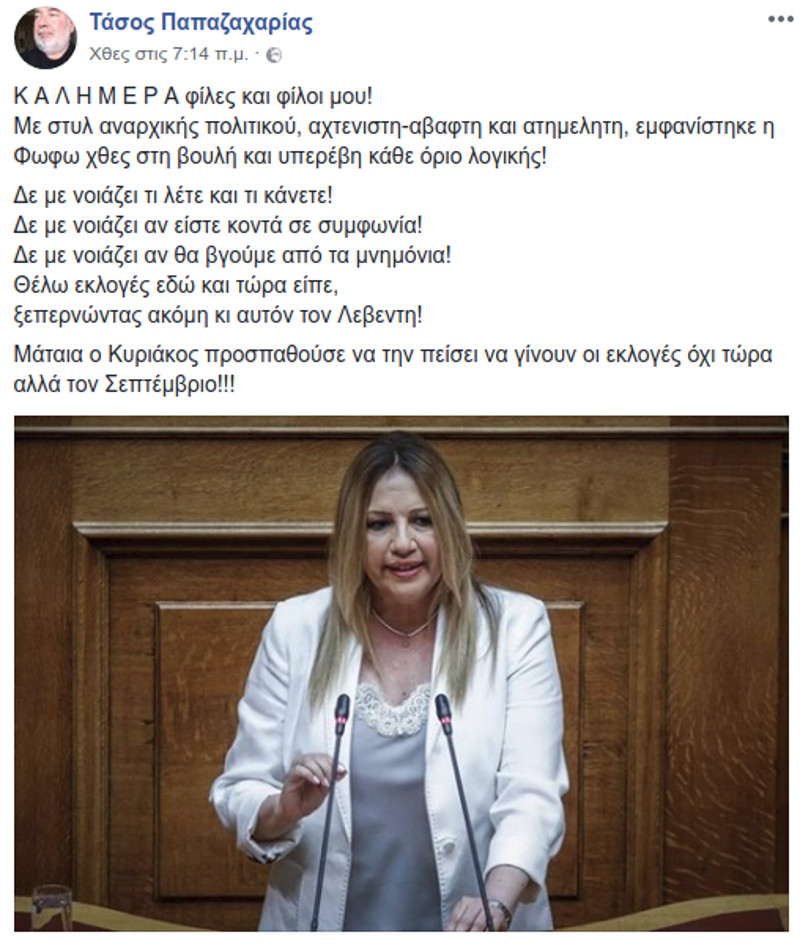 Ας σημειωθεί ότι το αίτημα της Φώφης Γεννηματά για πρόωρες εκλογές έχει προκαλέσει έντονη δυσφορία στον ΣΥΡΙΖΑ και πολλά στελέχη έχουν εξαπολύσει πολυμέτωπη επίθεση εναντίον της επικεφαλής του ΚΙΝΑΛ.
Christidis: Από την πολλή παρέα με τους ΑΝΕΛ έγιναν ίδιοι
Απαντώντας μέσω Twitter, στον Τάσο Παπαζαχαρία, ο εκπρόσωπος Τύπου του ΠΑΣΟΚ Παύλος Χρηστίδης τόνισε:
«Ο ΣΥΡΙΖΑ και η παρακμή του δεν προσβάλλουν απλά την Φώφη Γεννηματά, αλλά κάθε γυναίκα. Από την πολλή παρέα με τους ΑΝΕΛ έγιναν ίδιοι».
Source:iefimerida.gr