Two months ago, the Bloomberg ranking of the pandemic in various countries around the world, had become the flag of the official opposition.
Until yesterday, there was not a SYRIZA MP who did not refer to the relevant list in December 2020, as proof of how badly Greece is doing in dealing with the disease and its effects.
Now silence. They probably would not have seen the updated ranking.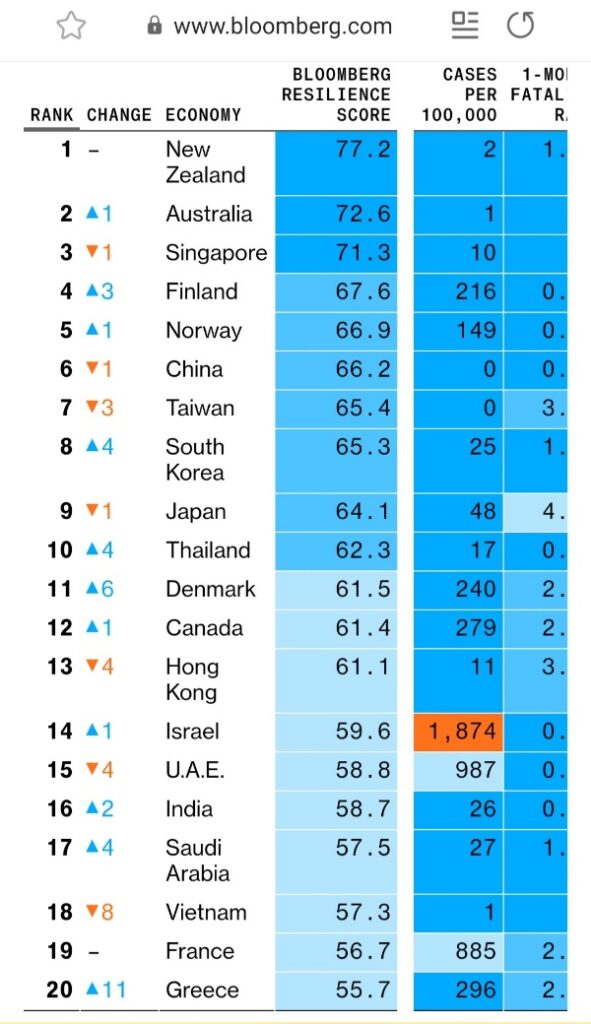 For' that alone I refer to in the relevant post. Otherwise, I say what I said in December. That this is a dynamic and dangerous situation, which if escaped you can become uncontrollable. There is no room for complacency, nor celebrations. But neither is catastrophizing, by invoking "convenient" elements.
The variability is also shown in the above measurement, which rates states with economies above 200 billion dollars, in 11 indicators (cases, mortality, vaccines, health system, impact etc.).
According to February data, many countries have undergone significant reorganizations. Greece has risen 11 seats, in the 20th in the world, with the mortality rate declining by 4,4 percentage units. However, the risk of an increase in infections is indicated!
I say it again, the evaluation is based on rolling measurements. But the same was true in December. The fact that our country is doing well so far, it is hardly disputed by anyone, except for SYRIZA.
Sometimes political rivalry pushes some into hasty criticism.
I do not believe that there is even one who can rejoice in a possible failure of Greece, especially in this area. That would be a perversion.
Mainly, Nevertheless, on such a critical issue, that has to do with the lives of our fellow human beings, it is good to be restrained.
Vaccination of the population is the only visible way to turn the page permanently. Until then, we must remain committed to the faithful observance of the instructions.
Especially those of us who have experienced the painful consequences of prolonged restrictive measures, we must not allow our place to re-enter p' this adventure.
Let us protect what we have achieved with so much effort.